Welcome to Leads Are Cash. We are lead management service SAAS (software as a service) business provider that offers highly valuable CRM (customer relationship manager) for you to manage your opt-in leads.
What we sell with Leads Are Cash is a solution to a global problem that 99.9% of all salespeople have, lack of a one-stop CRM hub to manage their business. We sell the solution to every single person who is in the sales arena globally. Whether you are dealing with email or calling your prospects on the phone, you need a way keep notes on each lead in an organized and detailed fashion, pin point your notes, track your progress, and be able to search all your data and who you need to follow up with and when. If you have a business that provides services or products, we have the CRM tools to provide you to grow your business.
We have several packages to choose from. Each package comes with a full state of the art CRM system, along with support and 24 hour access to your data.
To schedule a call with one of our account managers and to do a demo of our service, please contact us.
Link Trackers
Unlimited Campaigns
Lead Capture Pages
Auto Reponder Follow Ups
Lead Manager / List Builder / CRM
Advanced Lead Search Features
Lead Ranking
Lead General Notes Field
Lead "Followed-up" Ledger
Set Follow Up Reminders
Leads Export & Much More...


Back Office Example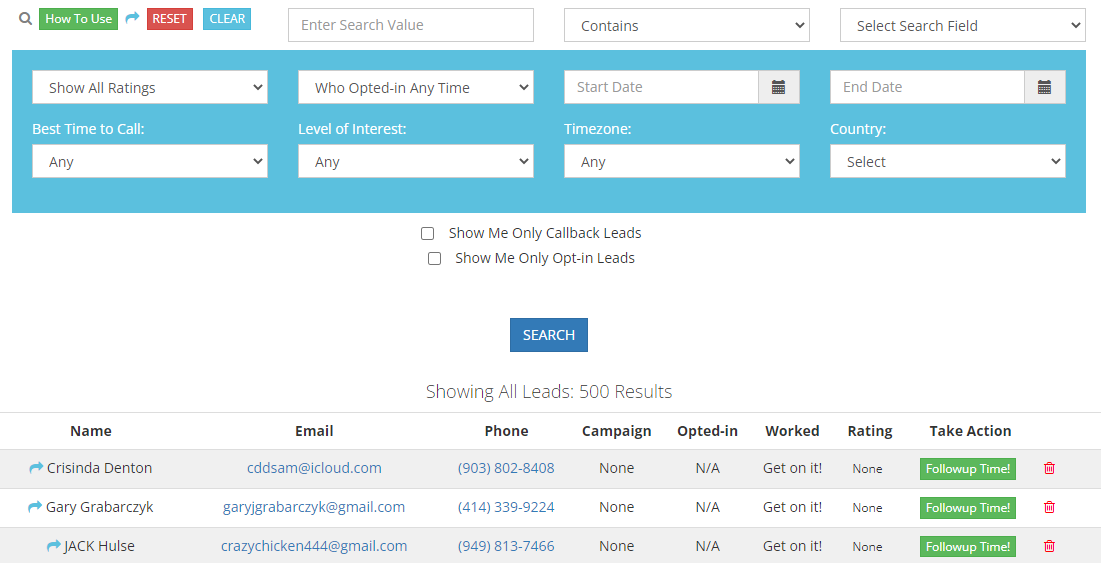 Lead CRM

Supports 1M

Support

24/hr Access
Lead CRM

Supports 3M

Support

24/hr Access
Lead CRM

Supports 5M

Support

24/hr Access
Lead CRM

Supports 8M

Support

24/hr Access
Lead CRM

Supports 13M

Support

24/hr Access